Vatech EzRay Air W
Product Information:
Products Model: VAT-XRAY02
Product Brand:

Vatech America

Condition: Refurbished
Warranty: 1 Year
Product images shown are for illustration purposes only and may not be an exact representation of the product. If you have questions regarding product images click here.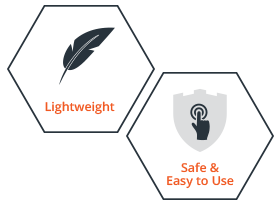 WEIGHT INNOVATION WITH CNT (CARBON NANO TECHNOLOGY)
The wall-mounted EzRay Air is a lightweight x-ray device designed for easy handling and stable positioning, giving you optimal intraoral x-ray image quality. The EzRay Air's lightweight tube head provides users with a stable, easy-to-use x-ray source that maximizes image clarity and optimizes workflow.
SMART DIAL FOR ALL FUNCTIONS
The operating panel, located on the tube head, creates a much simpler and faster workflow. Practitioners who use the Smart Dial will notice a decrease in preparation time. There will be no need to remember complicated control buttons and configurations.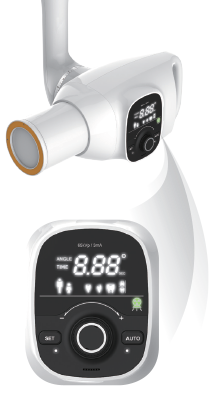 SECURE CLEAR IMAGES WITH A 0.4MM FOCAL SPOT
Compared to other intraoral sensors in the market, the EzRay Air provides optimal image quality and additional diagnostic value with a 0.4mm focal spot.

* Exposure Condition: 65kV, 3.0mA
ERGONOMIC DESIGN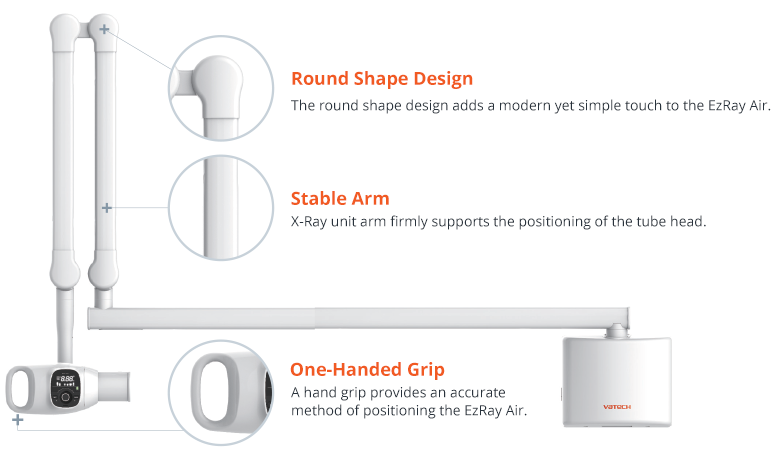 SPECIFICATION
EzRay Air W: VEX-S300W
FOCAL SPOT
0.4 mm (IEC 60336)
TUBE VOLTAGE
65 kVp
TUBE CURRENT
3.0 mA
EXPOSURE TIME RANGE
0.05 ~ 0.5 (0.01s increment)
SOURCE TO SKIN DISTANCE
Min. 7.9 inch
X-RAY FIELD

Default: 60 mm Round, 30 x 40 mm Rectangular

Optional: 20 x 30 mm Rectangular

ARM LENGTH [OPTION]
62"/ 68"/ 80" *See note A
ACCESSORIES
Remote Exposure Switch (Hand Switch / Doorbell Switch)
WEIGHT

56.9 lb (Arm Length 62")

58.0 lb (Arm Length 68")

61.1 Ib (Arm Length 80")
* The specifications are subject to change without prior notice.